Bus rental in Slovenia
Slovenia Bus offers different sizes of buses with drivers for many kind of trips in Slovenia and to its bordering countries.
Bus transfers: for a safe and comfortable trip within Ljubljana or between Maribor and its airport, go for our buses! We co-operate with local drivers to arrange bus transfers to the airports of Ljubljana, Venice, Trieste, Graz, Klagenfurt, all Slovenia and to various cities in Europe.
Sightseeing tours: our buses are also at your disposal to enjoy sightseeing tours in company with professional drivers and tour guides if you wish so. You could then admire Maribor and the surrounding Lower-Styria, visit the slovenian vineyards, the historic center of Ljubljana, and enjoy famous restaurants booked for you by our team.
Bus excursions in Slovenia: We organize bus excursions in Slovenia with local drivers and with slovenian polyglot tour guide. You can chose to start this trip from Maribor to Ljubljana, Trieste, Graz, Klagenfurt, Zagreb and Worthersee lake, or from Ljubljana to Carinthia, Styria, Trieste, Postojna or Venice. Wherever you want to go, the Slovenia Bus team will be delighted to help you to organize your excursion.
Bus trips in Europe: you also have the opportunity to make a bus trip across Europe. Starting in Ljubljana or Maribor we can travel to Austria, Germany, Italy and any other destination. In association with the tour operator City Tours, it wll be our pleasure to assist you in planning your trip.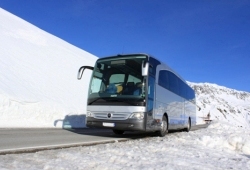 How to book a bus with Slovenia Bus
Would like to rent a bus ? Our buses are at your disposal for any transfers, sightseeing tours, excursions or trips in Slovenia and in Europe. To make an order, please send us an email at the following address: , or give us a call at +43 1 966 02 61. We look forward to hearing from you!